Order Process
Day 1 - Your logo is vectorized or digitized depending on your decoration
Days 2-4 - A logo stitch-out or printing proof is created
Day 5 - Proof is emailed to you for your approval
Day 6 (assuming your approval is given on day 6) - your order goes into production
Day 11 - order ships
Days 12-15 - Order delivers
**Please note, any delay in approval will result in a delay of the order process**

Blank orders ship from our warehouse within 3-5 business days of ordering.
Shipping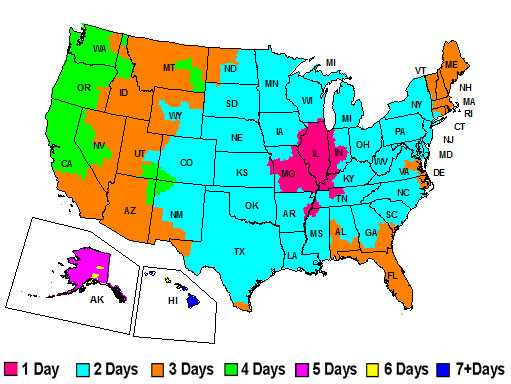 FedEx Ground and Express business days are Monday through Friday (excluding holidays). FedEx Home Delivery business days are Tuesday through Saturday (excluding holidays).
USPS Ground delivery days are Monday through Saturday (excluding holidays). USPS Express delivery days are Monday through Saturday.
All orders shipping to a freight forwarding company will be cancelled unless paid with PayPal.
Returns
Returns are accepted on blank items or defective merchandise/decoration. Because decorated items are custom made for you and are not resellable, we will not take these items back for a refund or exchange. If you think your item is defective, we are happy to take a look and see what we can do for you. All we ask is that you send us a picture of the defective item to info@ultimateedgeapparel.com along with your order number so we can take a look!
Blank items have 30 days to be returned back to our warehouse for a refund or exchange. Orders received after 30 days will be issued a refund in the form of store credit.
If you would like a prepaid return label to send blank items back, fill out the form below and one will be sent to you. Once we receive your return back at our warehouse, we will issue a refund to your account minus $6.95 -- the cost of the label.
Please note that prepaid labels are only eligible for the lower 48 states. This service is completely optional and you are welcome to send returns/exchanges back through any carrier you choose.